1288 Kapiolani Blvd & 1296 Kapiolani Blvd, Honolulu, HI 96814
Moana Pacific offers luxury high-rise condos ideally located between the world famous tourist mecca of Waikiki and the business/financial district of Downtown Honolulu just back from the beautiful tree-lined Kapiolani Blvd.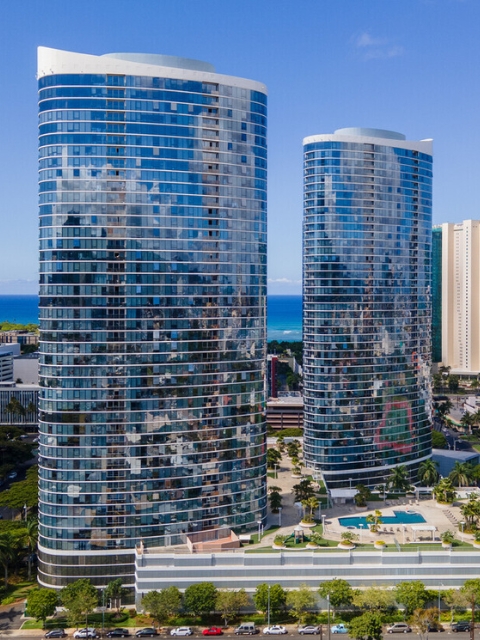 Information & Materials Courtesy of the Developer KC Rainbow Development.
1-Bedrooms, 2-Bedrooms, 3-Bedrooms (Total 719)
Water/Sewer, Cable TV and Wireless Internet
All views, square footages, furnishings, layouts and dimensions are approximate and subject to change at any time.
Overview of Moana Pacific
Moana Pacific consists of two almost identical architecturally stunning elliptical towers of about 360 residences each, the East and the West, with a large 2-acre recreation deck between and adjoining them on approximately 6 acres of land, making it one of the largest residential condominium developments in Honolulu. The two towers are 48 stories high (no 13th and 14th floors) and the typical 9 unit floor-plate consists of:
4 ocean/"makai" facing 2-bedroom 2-bathroom residences w/2-parking (Type D and E)
2 mountain/"mauka" facing 2-bedroom 2-bathroom residences w/1-parking (Type B)
2 end unit 3-bedroom 2-bathroom residences w/2-parking (Type C)
1 mountain/"mauka" facing 1-bed 1-bathroom residences w/1-parking (Type A)
Amenities at Moana Pacific
Moana Pacific's 2-acre recreation deck includes a pool, 2 whirlpools, a sundeck, gas BBQ grills, 2 full-sized tennis courts, golf putting green and driving cages and a children's playground. Also, within each tower is a fitness center, movie theater and party/game room. All the amenities that most condo owners desire and actually use!
First a brief history of my involvement with Moana Pacific. I was instrumental in introducing the developers, KC Rainbow Development, to the principals of our company, which helped to secure the original developer listing with Coldwell Banker Pacific Properties. Subsequently I was on the original developer sales team (2004), an original owner (2007), an original member of the board of directors (2007) and landlord (2014).
As a result, I have an intimate first-hand knowledge of Moana Pacific, from initial sales to the present. I have also closed on the highest sale ever in Moana Pacific, ocean-suite #4705W, for $2.4mil on 8/11/15 and have represented many other sellers and buyers in the project over the past 11 years.
Meet Tracy Yamato (RA) CRS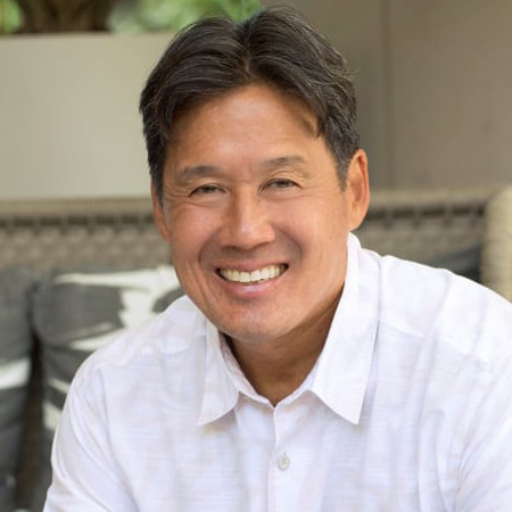 "I Don't Just Sell Properties,
I Sell a Lifestyle!"
Tracy will look after YOUR BEST INTERESTS. Tracy is a dedicated full-time Realtor with over 31+ years of experience in Hawaii real estate, specializing in new condominium developments in Honolulu.
He most recently served as the Sales Manager for Keola La'i, a new 352 unit condominium in Kaka'ako (2008). He also was a member of the Sales Teams for One Archer Lane (1998), Lanikea at Waikiki (2005), Moana Pacific (2007) and The Cove Waikiki (2014).
Questions? Please contact Tracy Yamato (RA) CRS of Hawaii Living LLC by filling out the form below, or call Tracy at 808-373-2274 or email Tracy@HawaiiLiving.com.