Launiu, also known as The Launiu Ward Village, stands as a forthcoming ultra-luxurious condominium development within the vibrant Ward Village, a meticulously planned 60-acre community located in Honolulu. When fully realized, Launiu will proudly emerge as the 11th residential undertaking within the Ward Village, with a grand total of 14 such endeavors envisioned. Remarkably, all of the units in this project will be classified as market-rate, with no allocation for affordable or reserved housing. To secure quality Buyer representation from a very experienced top producing agent, get in touch with Tracy Yamato (RA) – (808) 372-2274 / Tracy@HawaiiLiving.com. Tracy has over 30+ years experience working as a real estate agent in Honolulu, representing a large number of clients in Ward Village and across Kakaako –
read about Tracy
.
Information & Materials Courtesy of the Developer The Howard Hughes Corporation, Ward Village.
486 residential units – Studio, 1, 2, & 3 Bedrooms
All views, square footages, furnishings, layouts and dimensions are approximate and subject to change at any time.
The Residences
The project will have 2 structures with a total of 486 units, built on a 2.12 acre lot. Units will have 9 ft ceiling height, use Wolf & Sub-zero kitchen appliances with custom cabinets from Studio Becker.
Tower
400 ft tall, 396 units with the same 12 unit floor plate from the 8th to 40th floor – 2 x Studio, 4 x 1 Bedroom, 4 x 2 Bedroom, 2 x 3 Bedroom (buyers can select to have either of the 3 Bedroom stacks configured as a 2 Bedroom, creating a larger living space). The east facing units will all have balconies, with a wavy facade. 4 residential elevators plus 1 service elevator.
Podium
6 story structure, 90 units with the same 19 unit floor plate from the 2nd to 6th floor – 16 x Studio, 1 x 1 Bedroom and 2 x 2 Bedrooms. 1 elevator. Note: The 2nd floor has 5 guest suites (located furthest north along Ward Ave) which means just 14 resident units on this floor.
Location
The Launiu Ward Village will be prominently situated at the western corner of the Ala Moana Blvd and Ward Ave intersection, precisely opposite Kalae, and its official address will be 928 Ala Moana Blvd. It stands as the ultimate "front row" development in Ward Village, with the exception of future projects Block D and Block E, which are expected to command significantly higher price points.
Notably, The Launiu Ward Village will enjoy a generous separation of approximately 300 feet from both Alia and Kalae, which reside on either side of The Launiu Ward Village. This substantial distance promises to provide exceptional levels of privacy and comfort for its residents.
Take note of the map below, where you can observe the lush greenery immediately north of The Launiu Ward Village. This area is the current location of Auahi St, which is set to be redirected to the north to connect with Pohukaina St.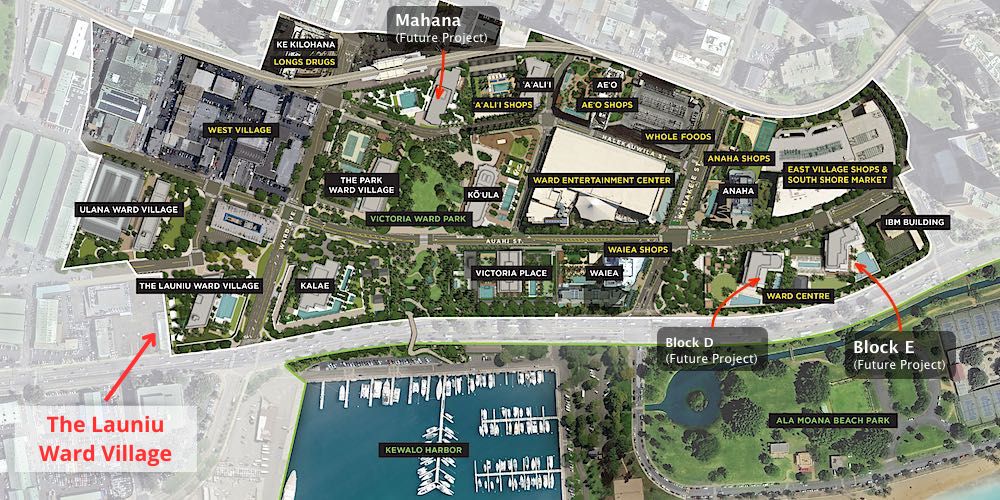 Amenities
Launiu will have a spectacular amenity deck located on the 7th floor with beautiful ocean views, looking over parts of Kalae's 5th floor amenity deck. In total more than 10,000 ft² indoor space and over 60,000 ft² outdoor space. It comes with a resort pool, lap pool (2 lanes), a tide pool (shallow) with seating, hot tub, lush green spaces, 5 Club Rooms with full kitchens, BBQ cabanas, a Gym with ocean views and much more. The ground level will have gardens, the lobby, a dog run and some casual meeting spaces.
The project will have 718 residential parking stalls, 20 guest stalls and 21 commercial stalls.
Meet Tracy Yamato (RA) CRS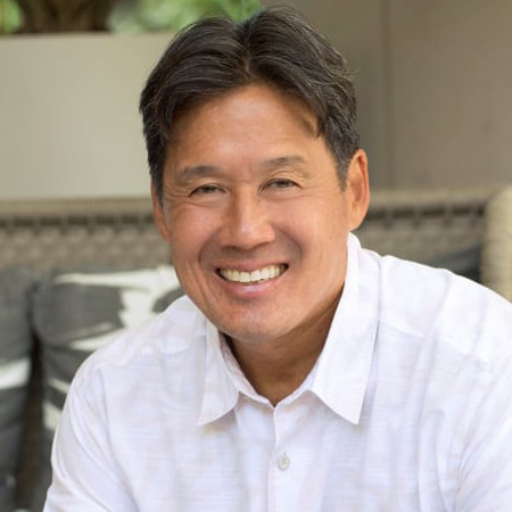 "I Don't Just Sell Properties,
I Sell a Lifestyle!"
Tracy will look after YOUR BEST INTERESTS. Tracy is a dedicated full-time Realtor with over 31+ years of experience in Hawaii real estate, specializing in new condominium developments in Honolulu.
He most recently served as the Sales Manager for Keola La'i, a new 352 unit condominium in Kaka'ako (2008). He also was a member of the Sales Teams for One Archer Lane (1998), Lanikea at Waikiki (2005), Moana Pacific (2007) and The Cove Waikiki (2014).
Questions? Please contact Tracy Yamato (RA) CRS of Hawaii Living LLC by filling out the form below, or call Tracy at 808-373-2274 or email Tracy@HawaiiLiving.com.